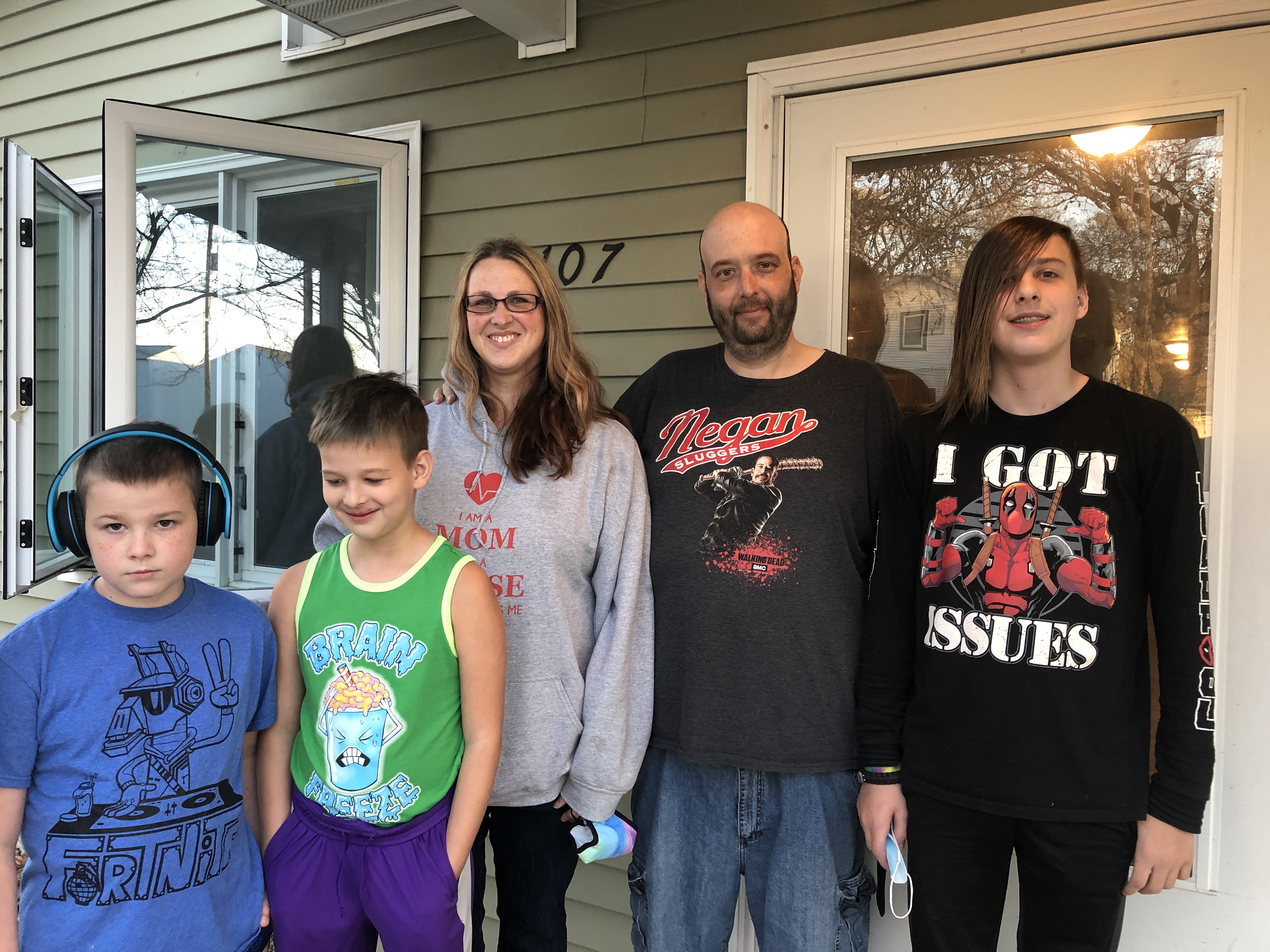 Habitat for Humanity of North Central Iowa celebrated the completion of another Habitat house in north Iowa, located on 15th St NW in Mason City, Iowa. A private gathering was held in November, 2020 for Cory and Candice Jennings and their 3 children. Pastor Kevin Jones of Trinity Lutheran Church blessed the home and prayed with the family as they begin their life in their new home.
"Through multiple medical obstacles this family's goal of homeownership has never wavered," says Melissa Schoneberg, Executive Director at Habitat for Humanity of North Central Iowa. "Candice and Cory are so dedicated to their family. This is just one way they can take care of each other and set themselves up for success in a world full of uncertainties."
The Jennings family has completed their required hours of "sweat equity", working in the ReStore, helping in our office, and working on updates in their own home as well. They are excited to move into the home this upcoming weekend. Candice works at MercyOne and their three children range from 9 to 13 years old.
"We are grateful…very grateful, and so appreciative!" says Cory. "It is an amazing feeling just to know it's ours!" Candice adds.
Habitat for Humanity serves local residents who are in need of safe and affordable housing, but who are unable to qualify for a traditional bank loan.  Habitat raises the money needed to build the homes, and then provides low interest loans to qualified applicants with affordable monthly payments spread out over typically 30-35 year terms. The homes are primarily built by volunteers, along with the future homeowners, in order to keep the purchase cost affordable for the families. The low monthly payments that Habitat receives, makes up about 10% of their budget and goes into the "Fund for Humanity" to help to build future homes.
Habitat volunteers and staff are currently renovating two homes in Mason City, and hope to begin another homeownership project later this year in Mason City. Habitat also has a home repair program and installs aluminum modular ramps throughout Habitat's six-county service area. To inquire about volunteering, to make a donation, to apply for housing assistance, or to get more information about Habitat for Humanity or the ReStore, call (641) 424-8978 or visit the website at www.habitatnci.org.